2019.12.05
2013 1st Edition: Opening
KYOTOGRAPHIE International Photography Festival, which has become a spring feature of Kyoto, is marking its seventh anniversary this year. The official website has also evolved, and from this year we have launched the "Stories" page. We would like to introduce the history of the festival from the first to the present as a feature.
Twelve outstanding exhibitions in 12 resonating Kyoto venues were held as part of KYOTOGRAPHIE's premier edition. These major exhibitions were presented in various locations, reflecting Kyoto's diverse cultural, and natural history. Kyoto's contribution architecturally and historically cannot be surpassed. The participating venues represent a small selection of this city's amazing array of sites, welcoming people to appreciate Kyoto's diversity and its incredible significance on a global scale.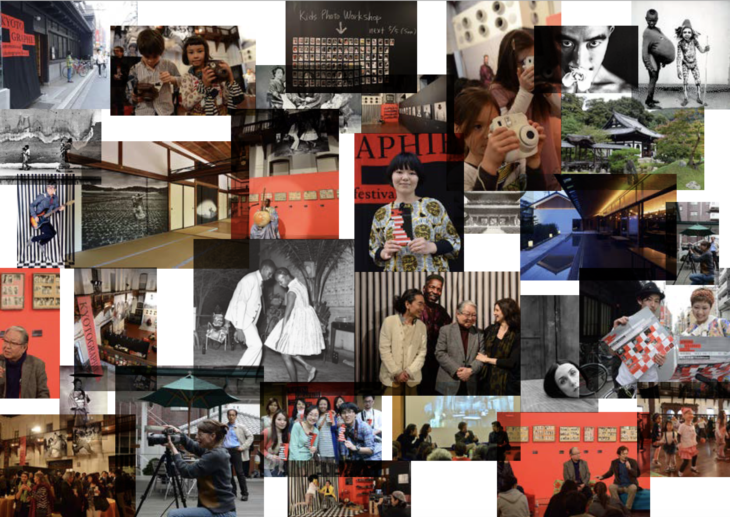 "Arriving in Kyoto two years ago, roaming around on bicycles and discovering new treasures, we mused about creating an international photography festival. We both work with moving image and our creative practice was inspired by the timeless capital. Each discovery and experience excited us, our idea gradually expanded and we decided to call the festival KYOTOGRAPHIE. Like the beautiful Rencontres d'Arles festival in France, we wanted our festival to be a journey through time and space. We felt it intrinsic to express the historical and contemporary elements of Kyoto, while exhibiting photographers from Japan and around the world. Kyoto was our ideal venue, due to its international appeal and its authenticity.
Japan's photographic technology sets the global standard in the industry, yet surprisingly Japan's talented, original, and prolific photographers are often more esteemed and better recognized abroad than within the country.
KYOTOGRAPHIE's intention was to stage the work in the shrines, temples, machiyas, teahouses and other emblematic locations of the city. By enlisting the help of professional scenographers and designers we ensured that the photography and the venues would complement and coalesce; one enhancing the other. It was our hope that by engaging Kyoto's traditional artisans a broader spectrum of Kyoto's society would feel that this is truly their festival.
KYOTOGRAPHIE would never have happened without the trust and support of our many sponsors and partners; all governmental bodies and Institutions; the talented photographers who participated in this first of what we hope will become an annual festival. We would like to express our greatest gratitude to them, as well as to our multi-talented team, everyone who has nurtured and help make it possible for our common dream to grow and blossom before the world."
2013
Lucille Reyboz & Yusuke Nakanishi,
Co-founders and Directors of KYOTOGRAPHIE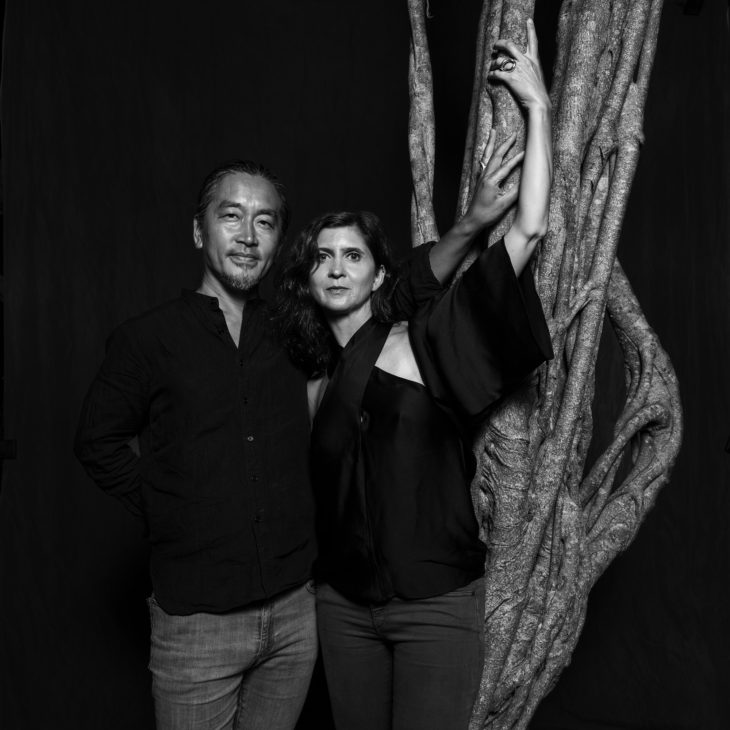 Lucille Reyboz
Photographer. Born in 1973, Lucille Reyboz began her journey with photography in Africa, where she spent most of her childhood, and discovered Japan in 1999, invited by Ryuichi Sakamoto to collaborate on his opera "Life". A portrait photographer, Lucille Reyboz also produced numerous record covers for labels such as Blue Note and Verve. While developing a prolific photography practice, she exhibited her work around the world, most notably in Visa pour l'image (2001), Phillips de Pury in New York (2007) and CHANEL NEXUS HALL, Tokyo (2011). She published several books, including Batammaba by Gallimard, Source, Belles de Bamako and Impressions du Japon with Keiichiro Hirano by Editions de la Martinière. Lucille Reyboz now lives and works in Kyoto, where she co-founded KYOTOGRAPHIE with Yusuke Nakanishi in 2013.
Yusuke Nakanishi
Lighting Director. Yusuke Nakanishi was born in 1968 and is a lighting artist who travels the world, and expresses his impressions of light and shadow from his memories. He has worked as a lighting director for feature films, stages, music concerts, fashion shows and interior designs. He also created the Eatable Lights object series, and has exhibited installations at the Hara Museum, the School Gallery Paris, and Nuit Blanche Kyoto.