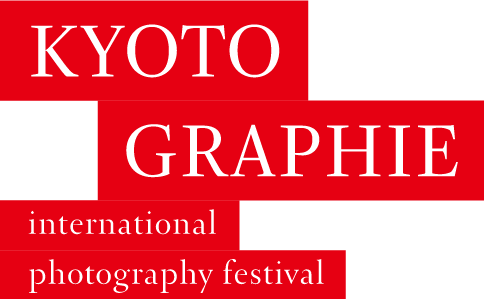 5th edition
"LOVE"
2017.4.15

Sat –

5.14

Sun
KYOTOGRAPHIE INTERNATIONAL PHOTOGRAPHY FESTIVAL
Organizer: KYOTOGRAPHIE International Photography Festival
Co-organizers: Kyoto City, Kyoto Municipal Board of Education
Main Sponsor :


The Kyotographie International Photography Festival is held annually over four weeks during the height of the spring tourist season in Kyoto, in a style that is unique in Asia. Exhibitions are spread across the city, staged creatively in various traditional and contemporary settings. The exhibitions and events create opportunities, bringing people together of all ages, cultures and backgrounds. Now recognized as one of the world's leading photography events, Kyotographie has attracted some 250,000 visitors from within Japan and overseas since 2013.
 
 
Our theme for 2017 is "LOVE.".
"Photography is a love affair with life". It is a way of feeling, of touching, of loving. For its 5th Anniversary Edition, KYOTOGRAPHIE wishes to celebrate love in – and through photography.
Love is all together passion, ecstasy, prayers; it is despair and sometimes madness, joy and hope, family – and much more. Love is what connects us to others and to nature.
Through our program, we wanted to share some views of love with the diversity, the commitment and the intimacy of photographers' eyes. Because love is primary."
(Lucille Reyboz & Yusuke Nakanishi, Co-founders and Directors of KYOTOGRAPHIE)
Main Program Artists & Venues
1. Guimet National Museum of Asian Arts, Photographic collections
"Theater of Love"
TORAYA Kyoto Gallery
2. Arnold Newman
"Masterclass" presented by BMW
Special show: BMW Art Car by Andy Warhol
Nijo-jo Castle Ninomaru Palace Daidokoro Kitchen and Tonan Sumi-yagura (Southeast Watchtower)
3. Chikako Yamashiro
"The Songs of Mud"
Horikawa Oike Gallery 1・2F
4. Giada Ripa
"The Yokohama Project 1867-2016" presented by Ruinart
Gallery SUGATA
5. Hanne van der Woude
"Emmy's World"
SHIMADAI GALLERY KYOTO
6. Akihito Yoshida
"Falling Leaves"
Former Shinpukan
7. Susan Barnett
"Not In Your Face"
Former Shinpukan (Aneya-koji Wall)
 
8. Raphaël Dallaporta
"The elusive Chauvet – Pont-d'Arc Cave"
The Museum of Kyoto Annex 1F
 
9. René Groebli
"The Eye of Love"
supported by NESPRESSO
The Museum of Kyoto Annex 2F
 

10. MEMENTO MORI
Robert Mapplethorpe Photographs from the Peter Marino Collection
presented by CHANEL NEXUS HALL
Kondaya Genbei Chikuin-no-Ma
 
11. Isabel Muñoz
"Family Album/Love and Ecstasy"
Kondaya Genbei Kurogura
 
12. Yan Kallen
"Between the Light and Darkness"
Mumeisha
 
13. Nobuyoshi Araki
"A Desktop Love" supported by shu uemura
Ryosokuin(Kenninji Temple)
 
14. TOILETPAPER Maurizio Cattelan & Pierpaolo Ferrari
presented by FUJIFILM
ASPHODEL
 
15. Zanele Muholi
"Somnyama Ngonyama"
FORUM KYOTO
 
 
Golden Week Special Program
16. agnés b. Photographic Collection
"amour, amours… from my photography collection agnès b."
Museum「EKi」KYOTO
 
Associated Program
17. LOVE Photobook Library from SIGMA Collection
SferaExhibition
 
18. DAYS JAPAN International Photojournalism Awards Exhibition
Kyoto Museum for World Peace, Ritumeikan University
Public and Education Programs
KYOTOGRAPHIE offers programs for everyone, students, children, amateurs and professionals. These include masterclasses with internationally renowned photographers and a two day International Portfolio Review. The exhibitions are accompanied by inexhibition talks and events. The festival also hosts workshops, children's events, and guided tours throughout the festival.
Cooperated by
Culture City of East Asia 2017 Kyoto,
ICOM (International Council of Museums) Kyoto 2019