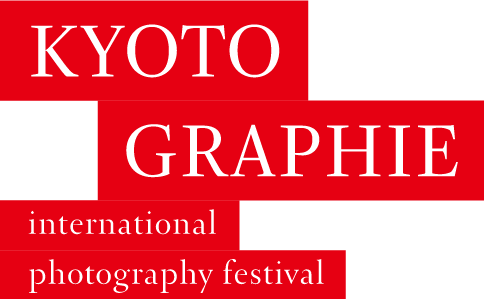 5th edition
"LOVE"
2017.4.15

Sat –

5.14

Sun
KYOTOGRAPHIE INTERNATIONAL PHOTOGRAPHY FESTIVAL
Organizer: KYOTOGRAPHIE International Photography Festival
Co-organizers: Kyoto City, Kyoto Municipal Board of Education
Main Sponsor :


The Kyotographie International Photography Festival is held annually over four weeks during the height of the spring tourist season in Kyoto, in a style that is unique in Asia. Exhibitions are spread across the city, staged creatively in various traditional and contemporary settings. The exhibitions and events create opportunities, bringing people together of all ages, cultures and backgrounds. Now recognized as one of the world's leading photography events, Kyotographie has attracted some 250,000 visitors from within Japan and overseas since 2013.
Our theme for 2017 is "LOVE." Humanity's diverse forms of love serve as means of social cohesion and strategies for propagation of offspring to ensure the survival of the species. Those feelings and ideas we call love all vary according to one's background, religious views, history, geographical region and living environment. Such differences can cause friction and at times turn love into hate, wholly deplete love to disinterest, or even lead to murder, war, violence toward the disadvantaged and other serious problems that plague contemporary society. Which lets know just how vital love is for us humans and why we instinctually crave love in all its multiplicity.
(Lucille Reyboz & Yusuke Nakanishi, Co-founders and Directors of KYOTOGRAPHIE)
1. Guimet National Museum of Asian Arts, Photographic collections
"Theater of Love"
2. Arnold Newman / U.S.A.
"Masterclass" presented by BMW
Special display: BMW Art Car by Andy Warhol
3. Chikako Yamashiro / Japan
4. Giada Ripa / Italy
"The Yokohama Project 1867-2016" presented by Ruinart
5. Hanne van der Woude / Netherlands
"Emmy's World"
6. Isabel Muñoz / Spain
"Family Album" & "Love & Ecstasy"
7. Raphaël Dallaporta / France
"The elusive Chauvet – Pont-d'Arc Cave"
8. René Groebli / Switzerland
"The Eye of Love"
9. Robert Mapplethorpe Photographs
from the Peter Marino Collection / U.S.A.
"MEMENTO MORI" presented by CHANEL NEXUS HALL
10. Yan Kallen / Hong Kong
"Between the Light and Darkness"
11. Nobuyoshi Araki / Japan
"A Desktop Love"
12. TOILETPAPER Maurizio Cattelan & Pierpaolo Ferrari / Italy
13. Zanele Muholi / Republic of South Africa
"Somnyama Ngonyama"
Golden Week Special Program
14. agnés b. Photographic Collection / France
"amour, amours… from my photography collection agnès b."
Public and Education Programs
KYOTOGRAPHIE offers programs for everyone, students, children, amateurs and professionals. These include masterclasses with internationally renowned photographers and a two day International Portfolio Review. The exhibitions are accompanied by inexhibition talks and events. The festival also hosts workshops, children's events, and guided tours throughout the festival.
Cooperated by
Culture City of East Asia 2017 Kyoto,
ICOM (International Council of Museums) Kyoto 2019