At Raphaël Dallaporta's exhibition, images of "Chauvet Cave" appears on high resolution SONY PCL 4K monitors. Using them as borrowed scenery, Seizan Toda, deputy head priest at Daiji-in, Daitoku-ji Temple serves you tea in a handcrafted mobile bamboo teahouse – Kian. Your tea will be served in a special teabowl called Nihonmatsu by a ceramicist Toshio Matsui. These bowls were made with earth from a rice field dating back to the Yayoi Period (5th century B.C.) with more than 5000-year-old technology from the Mid-Jomon Period – one of the oldest recorded in human history.
About Kian
Serving a bowl of tea and reaching out to the guests.
In Japan, tea ceremonies are held to create a bond between the people.
For the last two years I have been motivated to promote Japanese tea ceremony in new and unconventional ways by setting up a portable teahouse made from bamboo, the teahouse can be dismantled and assembled making outdoor tea gatherings possible.
By changing tea's traditional image and its rigid formal ways, I hope to have more people experiance 'tea' and become interested in the Japanese tea culture.
I wish to serve them a bowl, they take a mouthful then enjoy the experience of tea in a relaxed atmosphere, encouraging them to look deep within themselves taking a break from the world.
– Seizan Toda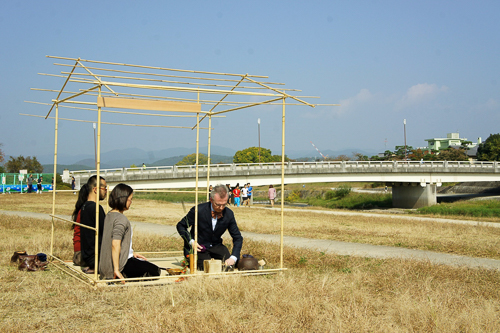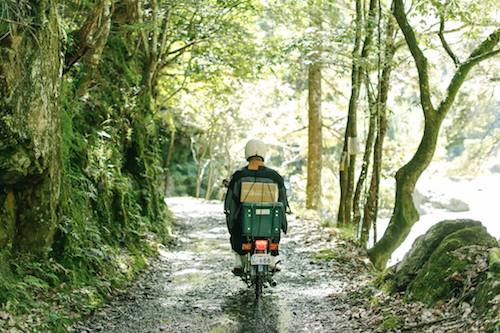 Seizan Toda
Born in Kyoto in 1967. Deputy head priest at Daiji-in, Daitoku-ji Temple. After studying at Doshisha University and working at an accounting company, he entered the world of buddhism. He practiced austerities at Tenryu-ji and Daitoku-ji Temple for 5 and half years. He has recited sutras and taught zen in France and Germany. He enjoys mountain hiking and with Kian, he whisks tea in nature, in the beauty of the four seasons.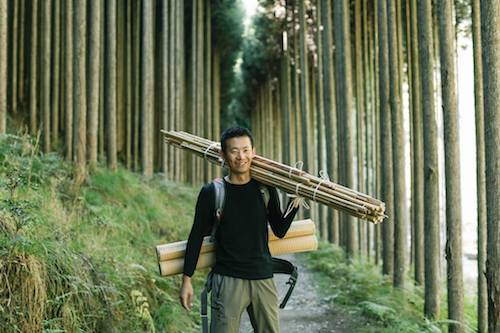 Masayuki Inaida
Born in Toyonaka-shi, Osaka in 1976. Based in Kyoto.
After studying at Doshisha university and working for a a precision machine manufacturer, he entered the world of architecture attracted by the "sukiya" style buildings which coexists in nature. Currently, he works at Kyoto Yamanaka Construction Co. Ltd. which has been exclusively serving Daitoku-ji temple. To spread the sense of wabi-sabi which could be seen in tea houses and is unique to Japanese tea culture to the world, he created a portable bamboo teahouse "Kian". He has been hosting tea ceremony at everywhere in nature in Japan.
This event is full.
Thank you for many applications!
[Fee]
2500
[Language]
Japanese *English support will be available.
[Program name for reservation]
5/7 Kian – Time Travel Tea Ceremony