In this workshop, under the direction of a kakeijku artisan you can make and take home your own mini-kakejiku. The event also includes a tour of the workshop where the restoration of important cultural artefacts takes place, this work space is never usually open to the public.
Please come with an image postcard size. In Japanese only. Limited space bookings essential.
[Date]
4/22 13:30 – (approx. 3.5hrs)
4/27 13:30 – (approx. 3.5hrs)
[Fee]5000yen
[Number Limit]10
For reservations contact to the Usami Shokakuo directly : usami@shokakudo.jp
* Please write down your date of preference.
Inquiries: 075-371-1593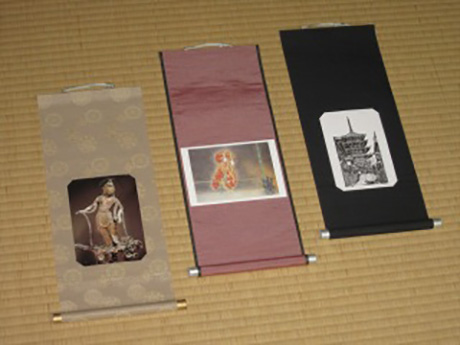 About Usami Shokakudo
A Japanese mounting artisan that has a history of 200 years. Since the foundation, the business is based in front of Nishi Hongwanji. After the World War II, as the request by the Japanese government, it established a branch at Kyoto National Museum for repair and preservation of cultural asset including paintings, calligraphy, and textiles. In 1996, Naohachi Usami, the 7th generation received the 5th Class, Gold and Silver Rays, Order of the Rising Sun by the government. He also was the chief director of the Association for Conservation of National Treasures