Masterclass
DREAMS TO REALITY
With Arno Rafael Minkkinen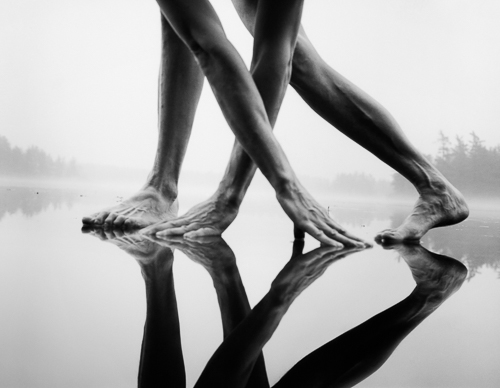 Fosters Pond, 1989 ©Arno Rafael Minkkinen courtesy PUG OSLO
Improve or find your personal visual language and style. Developing a personal & recognisable style is key to photographic practice, it also allows a photographer to change subject matter, maintaining identity.
Arno Rafael Minkkinen is a Finnish-­‐American photographer, educator, curator, and writer with over 100 solo shows and nearly 200 group exhibitions in galleries and museums worldwide.
"What happens inside your mind can happen inside a camera. "
It was the headline I wrote in 1970 as an advertising copywriter in New York for Minolta cameras before becoming the kind of photographer I am today. The headline remains my artist statement to this day, like buying the oars before buying the rowboat, trusting the eye in my mind to be capable of creating a reality that could be staged in front of the viewfinder; in short, imagining the picture before taking it.
In this workshop, we will examine how such a process can become an invaluable piece of your practice and how such images can help you build a personal vision, not based on a project, but on a way of seeing that is distinctive and true to your motivations to use photography as a vital and memorable communicative tool. The title of our workshop also refers to those who dream not only of discovering a personal pathway but making a unique and meaningful contribution to the medium.
– Arno Rafael Minkkinen
[Details]
Date : April 23rd 10:00-12:00*
25th, 26th 9:00-17:00
Fee : 20,000JPY (tax inclusive)
Venue : Ryosokuin (Kenninji Temple)
Language : English with Japanese translation
Inquiries : public.program@kyotographie.jp
[Reference]
Arno Rafael Minkkinen Official Website
http://www.arno-rafael-minkkinen.com
[Application]
Applicants should supply 5 images and a brief artist statement of practice. The workshop is open to all levels of photographers although project-based photographers may find the open-ended, creative thrust of the week less suitable to their needs. Participants will be selected for suitability based on their images and statement. *Applicants are kindly invited to attend the artist talk on Saturday as well as a private session with Arno immediately following his lecture.