On weekends and during Golden Week, KYOTOGRAPHIE's in-house guides offer twice daily, 90 minutes guided tours conducted in Japanese to selected exhibition venues. An insightful and interactive approach to the festival.

Guided tours require no reservation and are free for KYOTOGRAPHIE passport holders.
Please meet your guide in front of the first venue.
For guided tour in english or french please see the tour organized in partnership with Japan Experience :
https://www.japan-experience.com/activities-in-kyoto/festival-kyotographie-day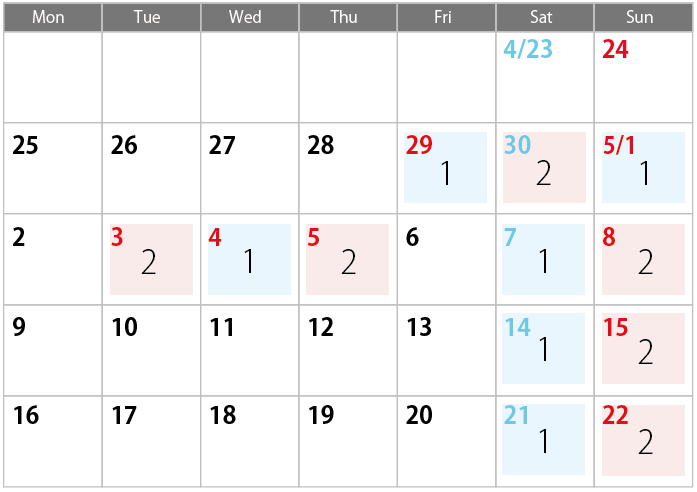 ●

Tour 1

4/29[Fri] 5/1[Sun] 5/4[Wed] 5/7[Sat] 5/14[Sat] 5/21[Sat]

① MORNING
11:00ー12:30

7 Nagae Residence(Meeting place)
Eriko Koga
Tryadhvan
>Exhibition Information
↓
6 Mumeisha
EXILE : 1945 to Today By Magnum Photographers
>Exhibition Information
↓
5 Kondaya Genbei Kurogura
Chris Jordan+Jurgen Lehl
Midway : Message from the Gyre
>Exhibition Information
---
② AFTERNOON
14:00ー15:30(16:15〜 Optional tour)
3 Horikawa Oike Gallery (1F)(Meeting place)
Thierry Bouët
The First Hour
>Exhibition Information
↓
4 Horikawa Oike Gallery (2F)
Kikujiro Fukushima
WILL − Kikujiro Fukushima, a photojournalist
>Exhibition Information
↓
2a Gallery SUGATA
Sarah Moon
Late Fall
>Exhibition Information
↓
[Optional] 1 TORAYA Kyoto Gallery
Guimet National Museum of Asian Arts, Photographic collections
Tea and Life in Meiji period
>Exhibition Information
●

Tour 2

4/30[Sat] 5/3[Tue] 5/5[Thu] 5/8[Sun] 5/15[Sun] 5/22[Sun]

① MORNING
11:00ー12:30

13 Ryosokuin (Kenninji Temple)(Meeting place)
Arno Rafael Minkkinen
YKSI: Mouth of the River, Snake in the Water, Bones of the Earth
>Exhibition Information
↓
12 ASPHODEL
Erwin Olaf
Light by Erwin Olaf presented by Ruinart
>Exhibition Information
↓
11 SferaExhibition
Antony Cairns
LA-LV / LDN_ Process HARIBAN AWARD 2015
>Exhibition Information
---
② AFTERNOON
14:00ー15:30(16:15〜 Optional tour)
10 ROHM Theatre Kyoto(Meeting place)
Qian Haifeng
The Green Train
>Exhibition Information
↓
9 Kyoto Municipal Museum of Art Annex (2F)
Christian Sardet
PLANKTON: A Drifting World at the Origin of Life supported by BMW
>Exhibition Information
↓
8 Kyoto Municipal Museum of Art Annex (1F)
Coming into Fashion
− A Century of Photography at Condé Nast
Presented by CHANEL NEXUS HALL
>Exhibition Information
↓
[Optional] 2b Shokian Mirei Shigemori Residence
Sarah Moon
Time Stands Still
>Exhibition Information